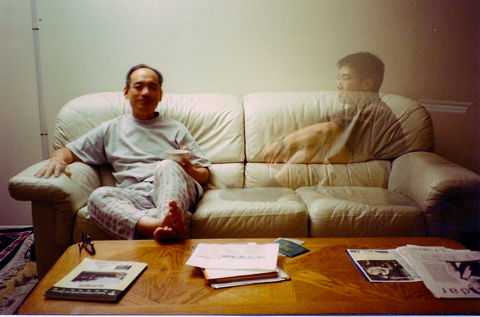 Tagline: Reflecting for 17 years on his family's immigration legacy, the filmmaker confronts the delicate images of a once intact family.
Short Version: In this award-winning film that gives an insider view on the contemporary Asian American immigrant experience, divorce and family psychology, and personal filmmaking, director Alvin Tsang reflects on his family's migration from Hong Kong to Los Angeles in the early 1980s – fraught with betrayal from his parents' divorce, economic strife and communication meltdown between parents and children. This poetic exploration of 17 unresolved years moves moodily across different channels and modes, bending into labor histories and Hong Kong's colonial trajectories. Tsang turns the camera on his own family, cautiously prodding for answers, but fully acknowledging that the only closure he can get will be from deciding for himself how to move on.
Long Version: Between faded family photographs, old video footage, and interviews collected through the years, Alvin Tsang's REUNIFICATION bears the look and feel of a documentary that's taken decades to produce. Perhaps it required all that time for Tsang to fully process his family's history and confront his own emotionally turbulent upbringing. For the audience though, that passing of time is key to the film's powerful portrayal of tireless emotional reconciliation.
When his mother and two siblings first immigrated from Hong Kong to Los Angeles in the early 1980s, six-year-old Alvin was forced to stay behind with his working, and consequently absent, father. Spending the following three years often alone in an empty apartment, he longed for his family's reunification. However, upon Alvin and his father's arrival to America, that dream was utterly and permanently shattered under circumstances the filmmaker has yet to fully comprehend to this day.
REUNIFICATION is Tsang's poetic and self-reflexive exploration of 17 unresolved years – poetic in its wonderfully articulated narration and in its restraint as he grasps for any semblance of explanation. Backed by an achingly beautiful score, the film moves moodily across different channels and modes, bending into labor histories and Hong Kong's colonial trajectories, wading in the mire of nostalgia, grief, and confusion that is his past. And in his search for answers, Tsang turns the camera on his own family, cautiously prodding for answers, but fully acknowledging that the only closure he can get will be from deciding for himself how to move on. –Brandon Yu