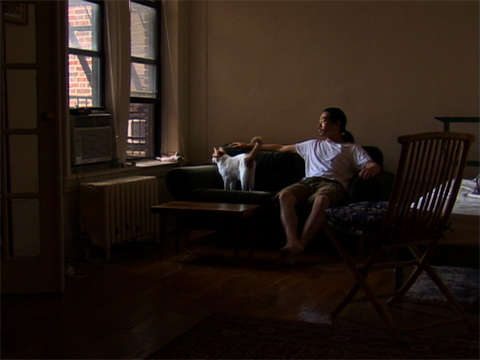 While I was studying filmmaking at the University of California, San Diego some two decades ago, I was inspired by three professors there – Babette Mangolte (seasoned DP for Chantal Akerman), J.P. Gorin (directed "Tout Va Bien" with Jean-Luc Godard) and Thomas Allen Harris (directed "Through the Lens Darkly"). Both French New Wave filmmakers, Professors Mangolte and "J.P" pragmatically focused their teachings on narrative criticism with the utmost intensity. They introduced me to various European and Japanese film giants (Eisenstein, Bresson, Kurosawa, Imamura, among others). Of course, being new to the art of filmmaking at the time and having been unknowingly brainwashed by the Hollywood and Hong Kong movie business (notice that I didn't say cinema) since birth, it was very difficult for me to absorb most of the deep ideas that they so passionately shared. In other words, I wasn't ready for their teachings in those days (looking back, their knowledge had affected me deeply on an unconscious level). Professor Harris, at the time, had already made a personal film about his own family and was in the middle of making another personal film about the African diaspora in Brazil and the US. I found myself drawn in by his passion in making personal narrative documentaries which allowed him to distance himself from the situation in order to understand it better. Not that this exploratory aspect was any new idea in documentary filmmaking, but it appealed to my taste and I was soon unconsciously traveling on that path.
REUNIFICATION took on and off about 17 years to make (but more like 4 intense years). It is a film that requires a long simmering period of time. Since I wasn't a writer but more of a visual person, I naturally allowed the visual to precede text. I decided to film many scenes that I have strong feelings about regardless of knowing how they will be put together as a whole later on. If the reason for filming a scene was that I felt depressed while living with my father, or that I was just trying to experiment with the camera's digital effects, or that I merely wanted to capture some home footage of my newborn niece at the hospital, so be it. Instead of following the traditional workflow of a film production – first write a screenplay and script, then make a storyboard, and then shoot and edit, my workflow was just the opposite. Working backwards by first shooting and simultaneously editing the scenes, while writing a script and creating narrations, then finally realizing the story in this organic way, was very painstakingly frustrating. For most of the time, I feel as if I was searching alone in the dark for something tangible. I felt that no one can help me. It was a big clunky puzzle where some parts fit, while others didn't. Every step was trial and error. There were about ten rough cuts made with various titles. The first few versions went into twenty different directions without any focus. But eventually with each version, the film became more and more focused. Because I was never involved in any professional film production, and the fact that this is an exploratory film – both in understanding and framing the family history and learning more about filmmaking, I had to make it this way. By working in this manner, I actually learned to write as a result.
Regardless of whether working forward or backward, one learns something meaningful as a result of investing much time and energy in making a film. Making this film has taught me many lessons – how to identify and follow my instincts on my decisions; let go of the things that don't fit no matter how much effort I put into them; and respect and maintain faith in my abilities. In terms of my outlook on my family and life, I believe that through making this film, complimenting it with proper emotional therapy, and seeing that in fact our family situation has become better, I have learned to understand and accept our dark family history. I'm very grateful for having been inspired by such passionate film teachers, grounded mentors, and good friends, and as a result gained a tool (and an outlet) to help me to express something that has been in my heart for so long. I hope through REUNIFICATION, I have done so, or at least have learned to do so, honestly. -A.T.